The Clothes Cleaning Booth and System is a quick and effective way to clean a worker's dirty work clothes without exposing the worker, co-workers, or the work environment to elevated dust levels.
A US Bureau of Mines report has documented a 10-fold increase in a worker's dust exposure due to dusty work clothes. It was found that once clothes become contaminated, they are a constant source of respirable dust until cleaned. Taking these dusty clothes home to be cleaned also exposes the person washing these clothes to unsafe levels of respirable dust.
A worker, without removing his clothing or his PPE, can step into a specially designed clothes cleaning booth and within 18 seconds have almost all visible traces of dust removed from his/her clothing. This eliminates their exposure to this dust hazard.
After the worker completes the cleaning cycle, they exit into a non-contaminated area (like office area, or break room or changing room) without re-contaminating themselves or the clean area. It also helps the cycle time if there is a break time, or shift change and more than one person is waiting to enter the booth
In other applications, industrial dust collectors and industrial vacuum systems are an excellent way to maintain the cleanliness within a plant and the area where workers keep their work clothes.
Developed to comply with all applicable federal regulations, the air shower utilizes compressed air exiting a manifold of nozzles and air blast to clean a workers' clothing in 20 seconds.
The only other approved* method to perform clothes cleaning in industry is to have workers use industrial vacuum systems or industrial dust collectors. This method is difficult and time consuming and, in most instances, not very effective. The use of a single compressed air blast hose is preferred by most workers but is strictly prohibited by law and usually creates a significant dust cloud in the work environment.
Some of applications for use:
Industrial Minerals Processing
Silica Processing
Lead Recycling
Metal Refining
Powder Coating Processes
Copper Smelting Operations and Plants
Mineral Mining Operations
Paper Manufacturing and Processing
Coal Mining and Processing Plants
Fiberglass Boat Manufacturing & Repair
Healthcare Industries
Quarries
Cement Processing Plants
Wood Working Companies
Textile Plants
Construction Sites
Auto Repair Shops
and Many, Many More!
Examples of Possible Configuration of Exhaust:
VENT TO ATMOSPHERE: in many applications, i.e. quarries, it may not be necessary to collect the dust. Venting it back to atmosphere may be sufficient.

EXHAUST TO EXISTING DUST COLLECTION SYSTEM: The typical in-plant installation will require at least 2000 CFM of excess capacity in the existing dust collection system, i.e. bag house.

DEDICATED DUST COLLECTION: The use of our optional industrial dust collectors that would be dedicated to the Clothes Cleaning System™. If the quantity of dust to be collected is small a pleated filter.
Penum may suffice.
Clothes Cleaning Booth.
240 or 400 Gallon Air Tank.
Booth, Blower and Tank are available Skid Mounted for quick repositioning of the system.
Compressed Air Source.
2000 cfm Blower Vented to Atmosphere or Industrial Dust Collectors.
All standard voltages available, (230V 1 &3 ph, 460V 3 ph, 575V 3 ph, 60 & 50 Hz) Specify Size.
Can be fitted into your present operation or sold as a complete Cleaning System.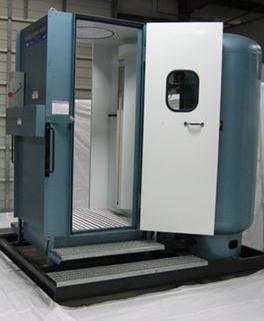 Two Door, Walk-Through Booth
SK Bowling, Inc. is a "Made in the USA", Manufacturer of Custom Designed and Engineered Spray Booths and
Ventilation Systems.


MADE IN THE USA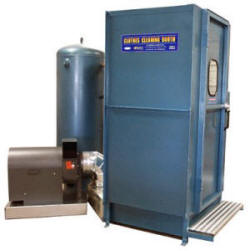 Basic System: Booth, Tank, Exhaust Fan
SPECIFICATIONS:
Booth Dimensions 42"1/2 x 52 1/2" x 96" outside Total footprint depends upon dust collection needs.

42" x 48" x 84" inside. Open Grating Floor.
Door Window, Light fixture, Electrical Control Wiring, Control Panel, Safety Valves, Actuators, Timers, Air Spray Manifold, and Operating Instructions are included. Air Reservoir Tank and Blower are also included.

Self-Contained Industrial Dust Collectors and Air Compressors are also available for stand-alone units.
---
PERFORMANCE:
The Clothes Cleaning Booth discharges 125 cubic feet of air in 18 seconds at <29 psi each cleaning cycle.

A 240 gallon Air Reservoir Tank at 100 psi holds enough air to complete one cycle. Recharge time depends upon the plant air system capacity. The air tank also serves as an accumulator to dampen the effects of discharging this high volume of air on the plant system.

The time it takes one worker to exit the booth and the next worker to enter and start the process will determine the wait time (if any) until the next cycle starts.

The air blast needs to be relatively clean coming out of the nozzles. Therefore, if using existing 'plant air, it may be necessary to add filtration and a dryer to the system.