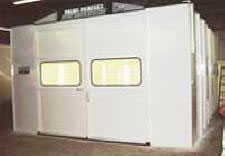 Paint Perfect Spray Booth Systems are manufactured by SK Bowling, Inc., Wilson NC. Our Paint Perfect Spray Booths, Mixing Rooms and Limited Finishing Stations are ETL Listed and Made in the USA.
Our Paint Perfect Booths are one of the best booths on the market. We will put the performance, quality, and reliability of our booths against any other manufacturer in the world. We guarantee the performance of our product. We install these booths regionally from our manufacturing facility in Wilson, NC.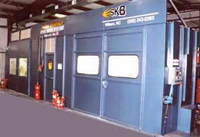 We are a turn-key company. We will do the drawings for permits, secure the permits, perform the installation of the booth, electrical wiring of the booth, gas piping (if heated), fire suppression system, balance the system, perform the start up sequence, and stay until all inspections are satisfied. Our Factory trained installers are meticulous in the detail of their work. Usually the customer only provides electrical power to the booth and a convenient gas meter.
We custom design our booths to meet our customer's criteria. We can fit one of our booths into almost any available space. That is, we will give you the most booth for your money, and take as little of your precious floor space as is necessary to install our product.
We conduct an initial conversation with the customer to determine what he is looking for in a spray booth, and what he/she is attempting to accomplish. A site visit is scheduled to get accurate measurements and verify the application. We then design our solution to the customer's need; put these ideas into and AutoCAD drawing and return to the customer to deliver the drawing and a formal quotation for discussion.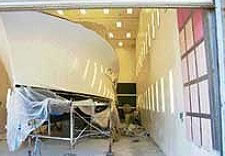 Our customers get tremendous return on their investment with Paint Perfect Spray Booth Systems. We furnish a custom designed and custom built product for a price that is competitive with the other manufacturers that mass produce only 1 or 2 different sizes of booths (Cookie Cutter Booths).
Almost all parts on Paint Perfect Spray Booths are available locally to insure a minimum of down time should a failure ever occur. We also pledge to send a factory trained service technician to your facility within 24 hours if your booth is ever down, and we cannot diagnose the problem over the telephone.
Our unique air flow design puts the air where it is needed. Filter replacement cost is dramatically reduced over booths with full ceiling filters.
You will be satisfied with our product and our installation.
We guarantee it!